Frequently Asked Questions
GUIDELINES ON NEW MEMBERSHIP & RENEWAL OF MEMBERSHIP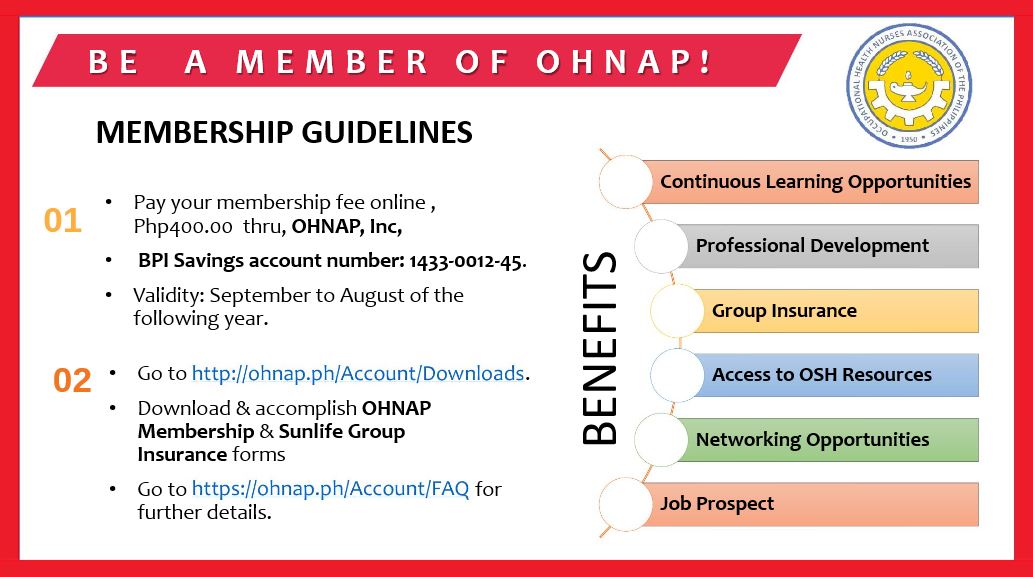 1. Download & accomplish the OHNAP Membership & Sunlife Group Insurance forms by visiting our website www.ohnap.ph & go to Downloads & click Sunlife Group Insurance & OHNAP Membership forms, or you may email and request forms to ohnapnurses@yahoo.com. Please accomplish the forms by writing clearly & legibly using black ink pen.
2. Pay your membership fee online using our BPI Savings Account number 1433-0012-45 with account name OHNAP, Inc. amounting to Php 400.00.
3. The validity of the membership is from September to August of the next year as we are following the Fiscal period in accordance with what is stated in the by laws.
4. Once accomplished, kindly email to ohnapnurses@yahoo.com & nurses@ohnap.ph the scanned copy of the following:
OHNAP Membership Form
SUNLIFE Group Insurance Form
Updated PRC license
Deposit slip or screenshot of the transaction receipt
5. Upon receipt & evaluation of the completed requirements by the Secretariat, OHNAP Membership Identification Card with control number will be emailed to you in which you can print in a hard bound paper.
6. Should you want to receive the membership ID & OR you may deposit an additional amount of Php150.00 for mailing.
We are on a skeletal schedule, so processing of your OHNAP membership may take time, please bear with us.
NOTE: Membership registration on the website is intended only for our file. To become a bona fide or legal member of OHNAP, please follow instructions above. FYI
Not yet a Member?
Click
here
to join and be an OHNAP member!